Geoff Hackett, M.H.K,  Certified Mental Performance Consultant®
About Geoff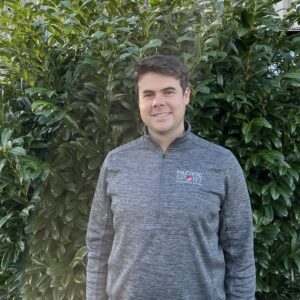 Geoff is PacificSport VI's Certified Mental Performance Consultant® (CMPC) and works with athletes and coaches across Vancouver Island. He has a Master's degree in Sport Psychology from the University of Windsor and recently earned his CMP
C status with the Canadian Sport Psychology Association. In addition to his CMPC role at PacificSport Vancouver Island, Geoff is a CMPC with the Canadian Sport Institute – Pacific, where he works with National and Junior National athletes. In addition, Geoff is a CMPC for Team BC, where he supports provincial athletes in their preparation and performance at the Winter and Summer Canada Games.
Mental Performance Services
Similar to physical training, mental training requires consistent practice for athletes to see the benefits within their sport. Geoff works with athletes and teams on issues related to performance enhancement, and offers the following services and strategies:
Reach performance potential in sport
Regulate arousal, stress, and energy levels
Mentally plan for competition and games
Improve communication and leadership skills
Develop specific mental tools related to performance (goal setting, imagery, self-talk, relaxation)
Use mental tools to target specific mental skills (energy management, stress management, attention, motivation, self-confidence)
Recover from injuries and setbacks
Build team culture and positive team environment
Why would I work with a Mental Performance Consultant? 
There are many reasons why an athlete would seek services from a mental performance consultant, with one of the most common being performance enhancement. In addition to the physical skills required to perform within their sport, athletes must have the mental skills to deal with the psychological demands they face in competition, such as building self-confidence, refocusing after mistakes, controlling competitive anxiety, and planning for performance. By addressing mental performance areas within their sport, athletes will be able to:
Regulate their emotions, thoughts, and actions to play to their optimal level
Deal with the many stressors in competition and training
Hold a high level of focus to maximize their training time
Enjoy their sport while keeping a positive sport-life balance
What is involved in the first session?
The purpose of the first session is to identify what the issues are within your sport. Your past successes, challenges, and current obstacles are important pieces of information that will identify the best way to proceed in accomplishing your desired goals. Geoff will discuss your concerns and thoughts that will create a mental performance plan that fits with you. The first session is where a clear direction and time line is established in order to achieve your intended targets. The number of sessions required will be based on each athlete's situation and needs.
The Importance of Confidentiality
Mental performance services are confidential, meaning that the information shared between Geoff and an athlete will not be available to individuals outside the athlete-consultant relationship (coach, other athlete, parent etc.) without the athlete's consent. If athletes choose to release information, they will be required to complete a release of information form. It is important to note that there a few limits to confidentiality in British Columbia: a) if an athlete expresses an intention to harm themselves or another person, b) if there is a reasonable cause to believe a minor (< 19 years old) needs to be protected from abuse (physical, sexual, or emotional) or neglect, this must be disclosed the information with the proper authorities, or c) if Geoff is served with a valid subpoena, search warrant, or court order, he must comply. As well, all information is kept confidential after the termination of an athlete-consultant relationship.
How can I schedule a session?
To set up a consultation, email ghackett@pacificsport.com or call 250 754 6200. Please contact for hourly rates, workshop rates, package fees for teams and athletes. In addition, please note that as this service does not provide psychotherapy, 3rd party billing is not provided. If you have any other questions, please do not hesitate to contact.
Mental Performance Resources
Canadian Center for Mental Health in Sport (CCMHS)
The CCMHS is a registered charity supporting the mental health and performance of competitive and high-performance athletes, coaches, performing artists, and support staff. The CCMHS is the first Centre in Canada to offer collaborative sport performance-focused mental health care services designed to help individuals achieve their performance goals while preserving their well-being.
For more information please visit their website: https://www.ccmhs-ccsms.ca/
Mental Fitness
Canada Sport for Life outlines the developmental outcomes for mental training for each stage in the Long Term Athlete Development model. This document provides information on the different objectives athletes should focus on in the various stages of aspire to in their sport. This resource is a valuable asset for athletes, parents, and coaches as it provides a framework for what is most important at each age level to develop mental skills to compete in their sport and realize their potential.
Online Mental Training Course
PacificSport VI is now offering an online Mental Training Course for athletes to improve their mental game. This course is self-paced where the athlete completes this on their own time outside of their school and sport commitments. This course will provide basic education for athletes around different topics related to mental training. The topics covered in this course are not exhaustive, but provide a basic level of knowledge that athletes can apply to their sport themselves. The course will take approximately 6 hours to complete.
Athletes will learn about the following topics and how they can apply these skills to improve their sport performance:
Goal Setting:
Athletes will learn about the different types of goals they can set for themselves as they relate to their sport.
Athletes will learn about certain characteristics that make goals strong and effective.
Activities in this section will focus on how an athlete can create specific, realistic goals that provide them with an action plan towards their goals.
Confidence:
Athletes will learn about confidence and how it impacts sport performance.
Athletes will learn about the different sources of confidence and how they can pull from these sources in their own lives.
Activities in this section will focus on specific skills the athletes can use to build confidence and maintain confidence when adversity hits in their sport.
Performance Mindset:
Athletes will learn about the ideal performance state and the different elements that create an athlete to find "the zone".
Athletes will learn about intensity and its relationship to an athlete being focused and on task.
Activities in this section will provide the athletes with skills to develop routines in their sport, provide information on preparing to play, and how to create awareness of their performance levels and adjust their energy to find optimal performance.
Managing Stress:
Athletes will learn about stress and how it can impact their sport performance.
Athletes will learn about sources of stress, and how they can identify resources in their life to manage the stress levels they experience.
Activities will focus on relaxation techniques athletes can use to manage their stress and be provided with resources that allow them to practice relaxation on their own time.
The Mental Training Course is $199, but Registered Athletes will receive a 50% discount as part of their benefits. Fees will be accepted through Eventbrite by payment with a credit card. If you are unable to pay through credit card, please contact Geoff at ghackett@pacificsport.com. Participants can receive refunds within 14 days of purchasing the course. Payment of the fee implies you agree with these terms.
This course is hosted on the Google Classroom platform. A Google account (with a Gmail address) is required to take this course. Other domains are not supported in Google Classroom.
Mental Training Webinars
View our Mental Training Series Videos below.