Registered Athlete Services
The Canadian Sport Institue (CSI) , in partnership with the national network of Canadian Sport Centre and the British Columbia network of PacificSport Centres, delivers sport performance programs and sevices to provide athletes and coaching living in BC with every advantage to win medals for Canada.
Through community partnerships with local businesses, municipalities, and organizations, Registered Athletes receive access to a variety of programs and services, including GymWorks, FoodStuff, Sportheath, and MoreStuff partners and opportunities.
Athlete Eligibility
PacificSport Vancouver Island registers athletes who have been identified in one of two ways:
1. By their Provincial Sport Organization (PSO). The PSO should notify their athletes by letter or email stating that they have met their sport specific criteria and are eligible to register with the Canadian Sport Institute and PacificSport.
2. By Sport Canada. If an athlete is receiving Sport Canada Athlete Assistance Program Government Funding (this usually indicates that an athlete is a Canadian National Team Member).
There are four registration levels consistent with the athlete performance pathway in British Columbia: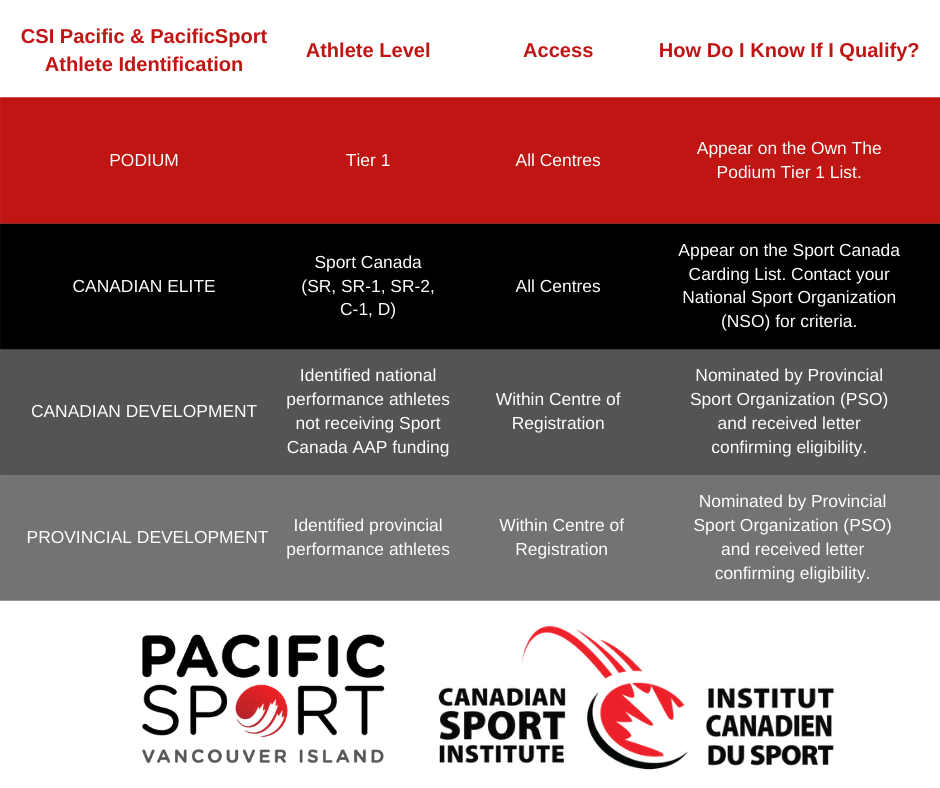 Athletes are eligible to receive services for one full year, after which time they must re-qualify according to their sport's unique criteria.
Note that PSO's submit their eligible athlete nomination lists to Canadian Sport Institute Pacific annually. Registered athletes receive athlete identification.
Get Your Identication
Registered Athletes & Coahces are assigned Identification Cards which can be presented at PacificSport partners to receive access and/or discounts depending on each partner's arrangement.
For NEW Registered Athletes to receive your Athlete Identifiation;
Once you receive your Letter of Eligibility from your PSO, follow the instructions to become registered and receive your Athlete Identification.
To RENEW your EXISTING Athlete Identification, please do BOTH of the following;
1. COMPLETE the Registered Athlete Identification RENEWAL Questionnaire
2. COMPLETE the Canadian Sport Pacific/PacificSport Vancouver Island RENWAL Questionnaire
For more information on any of our Registered Athlete & Coach Services or Registered Athlete & Coach Eligibility please contact our Athlete & Coach Service Manager, Kevin Lindo.
Partners & Services
The programs and services provided to Registered Athletes & Coaches are aimed at covering many aspects of life, both inside and outside sport.
PacificSport Vancouver Island curates these partnerships based on holistic development and athlete needs. We offer partners in the following areas:
Discounts at sport medicine practitioners who provide medical treatment, rehabilitations services, and/or medical monitoring.
Registered Athlete & Coach Benefits Web App

Registered Athletes and Coaches may use the CSI Web App to easily filter and search for discounts and services available in their areas!